RATKING Releases "So Sick Stories" With the Help of King Krule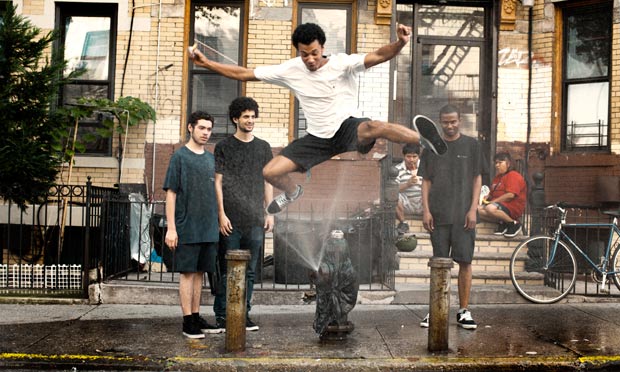 Even though I've just recently started getting more into the modern hip hop/rap scene, I probably wouldn't have heard about this if King Krule wasn't involved. And honestly, I could try and describe it, but the press release I got regarding this release probably sounds a lot cooler than anything I could whip up now, so I'm just gonna steal it. If reading's not your thing, then you're probably an idiot; just kidding, but seriously if you just wanna hear the song, jump the description below.
Don't ask Ratking for ID. If the accent and the attitude don't give it away, the shout outs to Canal Street and Lenox, the shitting on NYU kids infecting Washington Square Park, and the references to Puerto Rican judo will. This is the rotten manzana in 2014, under fire from all angles, but still able to spawn something as grimy as So It Goes, the debut LP on XL imprint Hot Charity, from arsonist MCs Wiki and Hak, and producer, Sporting Life.

You can't understand how a city should sound, if you don't understand how it feels. And you can hear it in Wiki's caustic sneer: "20 degrees outside. Toasted." It's not something you can absorb in several months or years. Poisons need time to seep into your pulse. Vital cities and vital artists are always in a state of flux. And so Ratking are self-described mutts: what would happen if you crossed Diplomatic Immunity with Merriweather Post Pavilion.

"New York is my planet," says Wiki, 20, who grew up on the Upper Westside. "But it's the New York of today. I'm not trying to glamorize some old fucked up NYC."

Wiki met Harlem-raised Hak, now 19, when they were both in the 2nd Grade. They've been friends and conspirators ever since. Sporting Life, 32, hails from Virginia but has been in the city since 2005. The group's genesis dates to a series of e-mails between Wiki and Sporting Life. Eventually met at a rap show and soon started serious collaboration.

The sound isn't the boom-bap and outmoded slang of '95. The circumstances have changed but the melting pot mentality and cold-blooded skepticism remain. You can hear the Krylon color and syllable-avalanche of Big Punisher and Cam'ron, but it's an entirely fresh twist. As Wiki spits on "Protein:" this ain't 90s revival/it's earlier/it's tribal revival."

It's returning to the essence. Don't twist it into carbon-copy kids thinking they can pick up an MPC and re-create the Fat Beats era. This is rap as smashing atoms not trying to replicate Main Source. So grime and jungle and No Wave are twisted into the Swisher. The feel is dirt under your fingernails, turnstile-hopping anarchy. You don't have to bomb trains to still bomb the system.

"The Internet makes a lot of people scared. They hedge their bets and that's the worst place to be. We experiment without fear," says Sporting Life.

It's this mentality that earned the group raves out the gate. Shortly after the release of their 2012 Wiki93 EP, the New York Times hailed them as "clever, sardonic and intense…a product of the city – not just the physical streets, but also a frame of mind and a set of experiences." The Fader raved that Wiki's flow is as "nasty as his broken tooth." Complex said that So It Goes' first single, "Canal" is "the perfect blend of old-school sensibility with modern energy."

The experiments of So It Goes were recorded between DJ Dog Dick's studio in Greenpoint and Just Blaze's Stadium Red. Young Guru, famed for his work with Jay Z, engineered it. King Krule, Wavy Spice, and Salomon Faye pop up to trade bars and hooks. These are the details that you may or may not remember. But the restless energy will stick with you.

It's the feeling of spitting on pedestrians from a 20-story building or the raspy stoned neon chaos of late nights and early mornings in the city. A similar punk-rap fuck-the-world ethos of The Beastie Boys and Biggie or the post-punk funk of Television and Suicide. New York, same as it never was.

"We're trying to take the music we love and push it forward. That's the only way you can make it iller. You can't just use the same equation," Wiki says. "We're trying to take that intensity of the past greats and spit it back in an entirely different formation."
Sick, right? Anyways, check out the video below. Their album, So It Goes, drops April 8th, 2014.
So Sick Stories (feat. King Krule) – RATKING